Black Hammerhead™ Mudhead™ Reverse 208R Junior Off Road Buggy
1899

£1,899.00




inc VAT
---
| | |
| --- | --- |
| Availability | Low on Stock |
| Supplier | Hammerhead |
| Brand | 208R Mudhead |
| Product Code | BLACK-MUDHEAD-REVERSE-208R-BUGGY |
| Supplier Code | BLACK-MUDHEAD-REVERSE-208R-BUGGY |
| Rating | 5 | (2) |
---
You can purchase this product from Storm Buggies.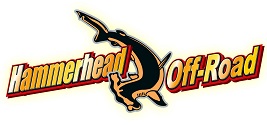 Hammerhead Off-Road® is owned, managed and all Hammerhead vehicles are manufactured to the highest standard by POLARIS® INC. Please beware of cheap Chinese imitation products which simply do not compare to the quality or durability of the Hammerhead Off-Road® range of off road buggies.
Our best selling kids off road buggy and the ONLY branded mid sized buggy with reverse and neutral gear!
The Mudhead '208R' is the latest version of the well proven Hammerhead™ Mudhead off road buggy. The 208R has been available in the USA for a number of years and has proved an extremely popular and capable off road vehicle.
Hammerhead™ is now owned and managed by the largest leisure sports vehicle company in the world 'Polaris Industries' so you can be sure this is a quality product, backed up with a premium service & support from the team here at Storm Buggies UK.
Key product features -
Mini 208cc LCT USA brand GP engine with revese gear

Fully automatic 'rev & go' CVT transmission

CE approved and plated

Padded sports seats + 3 point safety harness

Electric start, LED headlights & horn

Supplied with detailed owner's manual + Safety CD
The adjustable drivers seat distance to the brake & throttle pedals is as follows -
Seat in back position = Front of seat 62cm / Rear of seat 94cm
Seat slid into the forward position = Front of seat 52cm / Rear of seat 84cm
*Please do not confuse this buggy with the cheaper unknown brands or copies*
As with all our mainstream products, we hold 100% spare parts back up and offer full after sales service. Our parts are available to purchase online 24/7 and most are sent on recorded next day delivery.
Please Note: We are Genuine Hammerhead Suppliers. Only products sold through our authorised dealer network are genuine Hammerhead products and come with a 12 month warranty as well as excellent after sales service with spare parts available at all times. Please be very aware of any companies that appear to be selling Hammerhead products or lookalikes that are not listed on our dealer network. Please click here to find your local UK authorised and approved dealer.
Product images are for illustrative purposes only and sometimes actual colour shades, decals and styles may differ from the actual product. If you require confirmation then just give us a call.
General Specifications
| | |
| --- | --- |
| SHOCK ABSORBERS | INDEPENDENT SHOCKS – FRONT & REAR |
| SUSPENSION | INDEPENDENT DOUBLE WISHBONE FRONT / SWING ARM – SOLID AXLE REAR |
| WHEELS | BLACK COATED STEEL RIMS – 8" FRONT & 8" REAR |
| BRAKES | INDEPENDENT BRAKING FRONT / SINGLE CALIPER REAR / DRILLED DISCS |
| TYRES | FRONT = 16 x 6 – 8 / REAR = 16 x 7 – 8 (OFF ROAD PATTERN) |
| FRAME | QUALITY CHROMOLY FINISH |
| STEERING | RACK AND PINION |
| SEATS / BELTS | PADDED SPORTS SEATS + HEAD RESTS / 3 POINT SAFETY BELTS |
| DIMENSIONS | LENGTH = 1780mm / WIDTH = 1100mm / HEIGHT = 1295mm |
| WHEELBASE | Tbc mm |
| GROUND CLEARANCE | Tbc mm |
| WEIGHT | 136kg |
Engine & Transmission Specifications
| | |
| --- | --- |
| ENGINE | 208cc - GENERAL PURPOSE – OVER HEAD VALVE (OHV) |
| MANUFACTURER | LCT (USA brand) |
| MODEL | CMXX COMMERCOAL SERIES (EPA & CARB approved) |
| TOP SPEED / POWER | 25mph+ / BHP Tbc (At full unrestricted speed / power) |
| MAX TORQUE | 9.5 (Gross, Ft – Lbs) |
| START / COOLING | ELECTRIC START WITH PULL START BACK UP / AIR & OIL COOLED |
| FUEL / CAPACITY | STANDARD 4 STROKE PETROL / 3l FUEL TANK CAPACITY |
| TRANSMISSION | FULLY AUTOMATIC |
| CVT DRIVE | BELT |
| CLUTCH | CVT (Constantly Variable Transmission) DRY CLUTCH & VARIATOR |
| FINAL DRIVE | SOLID REAR AXLE |
| DIFFERENTIAL | N/a |
Please click the link here to see a very informative safety and information video about our Hammerhead™ Buggies. The video has been produced by Polaris who now own and manage Hammerhead™ Off-Road.
Key Safety Features –
Adjustable speed limiter on throttle pedal

Engine emergency cut out switch

Removable keys – no sneaky riding while you sleep!

Nudge bars for all round protection
Padded seats, head support & 3 point safety belts
CE Approved & safety plated
Polaris have produced a detailed Hammerhead
™
owners manual (supplied upon sale) with comprehensive safety, operation, service and maintenance information.
Essential Safety Gear! The driver AND passenger must wear the following safety gear -

Safety approved & correct fitment of helmet
Eye protection such as shatterproof goggles
Race suit or long sleeved top and full length bottoms
Boots such as over-the-ankle style
Gloves
Please see some general safety information on the link below -
Please see a guide to our full warranty policy on the link below -
http://www.stormbuggies.com/warranty
Please note that the guarantee / warranty is 'Return to Base' (RTB). The cost to return the goods to us and the delivery back of the goods are the responsibility of the purchaser.
Please also note that the guarantee / warranty will be void if the vehicle is not serviced in line with the servicing policy, or if the vehicle is used outside of its guidelines. For example, electric vehicles are for DRY USE ONLY.
Please click HERE for Hammerhead Mudhead spare parts.
User manuals and spare parts diagrams are located HERE.
Mudheads!!
Hammerhead Mudhead Buggy By Mark Walton
Many thanks for all your help with the buggy. It has already been a great success! Only ran out of petrol once...! Typically at the other end of the field.
A lot of fun and we will all have a lot of fun with this.
Thinking about the GTS now so we can all join the fun!
Thanks again for your help.
(Copied from hammerhead mudhead blue)
Address
QUADS 4 KIDS - STORM BUGGIES

Unit 26 Bolney Grange Business Park
Stairbridge Lane
Near Haywards Heath
West Sussex
RH17 5PB.
Telephone: (0044) 01444 245 205
Email: info@quads4kids.co.uk
Performance Toys Ltd T/a Quads 4 Kids
Related Products